Opinion: Why I'm Supporting Mya Whitaker for Oakland Council District 6
She is that once-in-a-generation candidate who has the power to engage and empower the most disenfranchised and underrepresented people in her community.
My name is Philip Green. I was born and raised in Oakland, I am a partner in entertainment collective Blackball Universe, and I co-manage Oakland Grammy-winner Fantastic Negrito. I am writing to share why, in a race with several candidates with similar platforms, I support Mya Whitaker for City Council in East Oakland. The choice is clear.

I first met Mya in 2016 at the screening of Fantastic Negrito's new video In the Pines at Red Bay Coffee. The screening also included a community conversation about gun violence and police and community trust — or lack thereof.

At the end of screening, Mya spoke about losing several friends to gun violence — and about the almost impenetrable apathy and hopelessness among her peers. "They just don't believe," she said at the time. "They don't see the jobs. They don't believe there are Black-owned businesses like this (Red Bay Coffee) that are willing to invest in people who have been in the system. They don't believe anyone cares."

That moment the room went quiet. Everyone knew she was right. And hearing Mya speak with such undeniable honesty, our team knew that from that day forward, we would do whatever we could to support this young woman and her community.
 



Little did we know that two years later, she would decide to run for Oakland City Council. And we are thrilled she made the choice. Here's why:

Simply put, Mya is that once-in-a-generation candidate who has the power to engage and empower the most disenfranchised and underrepresented people in her community — particularly young people of color.

 



Why? Because Mya is one of them. She is "from the soil," as she likes to say, she is still their peer, and she speaks to them on their terms. If you've followed her campaign, you will see she is a tireless worker who doesn't just show up to take pictures and shake hands. She stays 'til the end. She goes to the deepest parts of East Oakland and engages everyone.

 



These are just some of the many reasons why Mya was the first — and youngest — African-American female candidate for Oakland City Council endorsed by the California Young Democratic Party.

Last year, Mya confided to me that some important people in Oakland suggested she not run because she was "too young." It's precisely because she is young and has so much to offer her community that we are supporting her. She's not waiting around and asking for approval. She knows what her community is capable of, and she's making it happen. Now.

 



As Mya likes to say of East Oakland: "We are not asking to be saved. We got this."
---
Four candidates take on embattled East Oakland councilwoman
Candidates for Oakland City Council District 6 are, from left, Natasha Middleton, Marlo Rodriguez, incumbent Desley Brooks, Mya Whitaker and Loren Taylor.
PUBLISHED:
October 11, 2018 at 2:57 pm
| UPDATED:
October 11, 2018 at 3:51 pm
OAKLAND — As criticism mounts against District 6 City Councilwoman Desley Brooks, four candidates, none of whom has held public office, seek to unseat her in the November election.
Brooks, who has served 16 years on the City Council, has been under fire for a 2015 altercation with former Black Panther leader Elaine Brown. A civil jury in 2017 found that she committed elder abuse by pushing Brown to the ground, and ordered the city to pay $2.2 million to Brown in damages and legal fees.
Brooks on Tuesday

 

filed a claim against the city of Oakland
 

alleging the City Attorney's Office botched its case representing her, Brown poked her in the chest and called her derogatory names before the push occurred. Afterward, Brown went out to her car to supposedly retrieve a weapon, the claim said.
Mayor Libby Schaaf has accused Brooks of turning city hall into a
 

"toxic environment." District 4 city Councilwoman Annie Campbell Washington — who has disagreed with Brooks on several issues — is stepping down because of that "toxic" tone, though she didn't specifically call out Brooks for causing it.
Brooks had a recent spat with council members over her proposal to allocate city funds to private job-training centers. The proposal failed after its legality was questioned.
Brooks accused council members who didn't vote in favor of the proposal — Campbell Washington and Abel Guillen voted against it and Lynette Gibson McElheney abstained — of being in line with the city administration's unwillingness "to work with Oakland's most underserved communities to find real solutions to finally address black and brown unemployment, underemployment and displacement," she said in a June op-ed in the Oakland Post.
Still, Brooks has been praised in her district, which includes the Millsmont, Seminary, Melrose, Eastmont and Arroyo Viejo neighborhoods.
One of her proudest accomplishments as a City Council member was pushing to establish the Department of Race and Equity to make sure city resources and programs are shared equitably, she said via email. She also established the city's Cannabis Equity Program, which reserves half of its permits to sell recreational cannabis to applicants who have been convicted of a marijuana crime or lived for 10 of the past 20 years in areas where marijuana arrests were higher.
"We changed the national conversation in cannabis," Brooks said.
In the past few years, Brooks has ushered in the revamping of a troubled intersection on Foothill Boulevard and Seminary Avenue into
 

a community plaza, the development of the Seminary Point commercial retail district and the

 

groundbreaking of a renovated Rainbow Recreation Center.
Her top priorities if re-elected are to combat homelessness and displacement while creating affordable housing and living-wage jobs, building safe and livable communities — in part by reducing illegal dumping and blight — and ensuring "equity, hope and opportunity," she said.
Her challengers — registered nurse Marlo Rodriguez, biomedical engineer and management consultant Loren Taylor, police oversight commissioner and foster youth counselor Mya Whitaker and Alameda County Probation Department management analyst Natasha Middleton — seek to restore peace to the City Council.
"We are not getting city business moving forward; we're focusing on distractions that are costly and benefit no one," Middleton said during a recent interview with the Bay Area News Group's editorial board. "That's a disservice to District 6 as a representative and a disservice to the entire city of Oakland."
Middleton's top priorities are homelessness and housing, community and economic development and public safety, with a focus on human sex trafficking, she said. Middleton worked as a community liaison for Schaaf for six months when Schaaf was a City Council member. She's been endorsed by Campbell Washington — who also endorsed Taylor — and city Councilman Dan Kalb, as well as Elaine Brown.
Rodriguez, during the Bay Area News Group's editorial board interviews, said her top priorities are housing, economic development and job creation.
"I'm an advocate and a person whose life has revolved around serving others," Rodriguez said. "Now I'd like to serve our community because we need an advocate who's going to fight for the growth of Oakland with equity in mind."
Taylor's top priorities are bringing in more economic opportunities, both jobs and companies; stopping displacement of longtime residents; and making the city run more "effectively and efficiently," he said. Schaaf and former Mayor Jean Quan endorsed Taylor.
"Over the same two-year period that jobs grew by 6 percent across the rest of the city, they declined by 7 percent in District 6," Taylor said. "That huge gap in economic outcomes is indicative of the lack of focus and ability to deliver results."
Whitaker's top three priorities are providing more economic opportunities, increasing public safety and providing more housing, she said.
She touts her East Oakland roots, and seeks to enhance District 6 residents' involvement in city government decisions.
"I grew up in the soil of this district, and I think that residents need to understand the government process and for it to be demystified for them to really gain some political power here," Whitaker said.
---
Meet Oakland City Council candidate Mya Whitaker
https://abc7news.com/politics/meet-mya-whitaker/4371229/
Friday, October 05, 2018
OAKLAND, Calif. (KGO) --
In the November election, residents will vote in new members for the Oakland City Council. Meet District 6 candidate Mya Whitaker.
---
Mills to host District 6 candidate debate
The five candidates running for the position of Oakland City Council Representative for District 6 will participate in a debate at Mills College moderated by President Hillman on Wednesday, Oct. 3.
The debate will take place at Lorry I. Lokey Graduate School of Business and Public Policy 
from 7–8:30 p.m. The candidates are Marlo Rodriguez, Loren Taylor, Mya Whitaker, Mills alum Natasha Middleton and Incumbent Desley Brooks. 
The debate is open to the general public and there will be a chance for questions from the audience at the end.
Brooks will have served for 16 years as a council member at the end of her current four year term. Although Oakland Mayor Libby Schaaf 
has criticized her by
 comparing her to Donald Trump, Brooks still has a sizable group of supporters.
"As an elected official my main function is to be a representative for my constituency, advocate for their needs and support the voices of the communities I have the privilege of serving," Brooks said on the City of Oakland website.
Four other candidates are running against Brooks and this could be her last term in office. 
Rodriguez is a first-generation Filipino American and has worked as a Registered Nurse. She is running to advocate for the 
LGBTQ community, more housing options and safer neighborhoods.
 Rodriguez is advocating for more resources to be distributed to District 6.
"The mayor just rolled out a repaving plan, but it wasn't equitable to D6," Rodriguez said, as reported by the 
Oakland Magazine.
Taylor has a history of working in nonprofits and social justice groups, 
working to fight poverty, reduce violence, create opportunity and improve education.
Taylor is a father of two and is currently a youth soccer coach and PTA President at his child's school.
"I'm running for City Council because I want to ensure all Oaklanders have the chance to create better lives for themselves and their children," Taylor said on his 
website
.
Whitaker graduated from San Francisco State University with a bachelor's degree in communications and is currently a counselor for foster youth in Alameda County. Whitaker is also a mother and advocates for more resources for District 6.
"There's no parks, no grocery stores," Whitaker said, as reported by the 
Oakland Magazine.
"There's nothing for us here to raise our children."
Middleton graduated from Mills College with a master's in public policy after returning to school as a working mom. Middleton is running to fight 
gentrification, sex-trafficking and violence.
General elections for the city council, mayor and auditor for the city of Oakland will be held on Nov. 6.
---
For Female Candidates, Harassment and Threats Come Every Day
The abuse already common in many women's everyday lives can be amplified in political campaigns, especially if the candidate is also a member of a minority group.By Maggie Astor
Four days before the 2016 congressional primary in her Northern California district, Erin Schrode woke up to tens of thousands of messages. They were everywhere: in her email, on her cellphone, on her Facebook and her Twitter and her Instagram.
"All would laugh with glee as they gang raped her and then bashed her bagel eating brains in," one said.
"It'd be amusing to see her take twenty or so for 8 or 10 hours," another said, again suggesting gang-rape.
It has been two years since Ms. Schrode, now 27, lost her Democratic primary and moved on. But the abuse — a toxic sludge of online trolling steeped in misogyny and anti-Semitism that also included photoshopped images of her face stretched into a Nazi lampshade and references to "preheating the ovens" — never stopped.
"She needs to stop moving her hands around like a crackhead," said one tweet this year. "Another feminazi's plans foiled!" said another.
The 2018 election cycle has brought
 

a surge of female candidates. A record number of women ran or are running

 

for the Senate,

 

the House

 

and

 

governorships, according to the Center for American Women and Politics at Rutgers University. Many more are running for state legislatures and local offices. And in the process, they are finding that harassment and threats, already common for women,

 

can be amplified

 

in political races — especially if the candidate is a member of a minority group.
Erin Schrode, 27, faced harassment during a congressional race in 2016. Threats continue to this day, she said.
Credit
Erika P. Rodriguez for The New York Times
Last year, sexist and anti-Semitic abuse helped drive Kim Weaver, an Iowa Democrat, out of her race against Representative Steve King.
Someone crept onto her property overnight and put up a "for sale" sign. The neo-Nazi website The Daily Stormer published an article (no longer available) titled, as Ms. Weaver recalled it, "Meet the Whore Who's Running Against Steve King," increasing what was already an onslaught of threats. An acquaintance in the German government even called to warn her about a threatening conversation on an extremist message board, and to ask if she had personal security.
"I'm normally a pretty brave person, but when you feel like you're in a fishbowl and you don't know who it is that's throwing rocks at you, it's disconcerting," Ms. Weaver, 53, said. "You don't know if it's somebody sitting in his mother's basement in Florida or if it's a gun-happy white supremacist who hates you who lives a block away."
When she withdrew from the race, Mr. King suggested she had made up the threats. "I wanted #KimWeaver IN the race — not out," he tweeted. "Democrats drove her out of the race — not R's. Death threats likely didn't happen but a fabrication."
No independent organization appears to formally track incidents of harassment, and the Democratic and Republican National Committees did not respond to emails asking whether they did. But several groups that work with candidates said they routinely provided personal safety training.
Emily Ellsworth, 31, a Utah Republican, said that when she was seeking party delegates' support to get on the ballot for the State Senate this year, a male delegate cornered her at multiple candidate meet-and-greets and messaged her around a dozen times on Facebook. Only after she deactivated her account did he stop.
The messages were not sexually explicit, she said, but made her feel that "he really wanted to push a more personal relationship and had a hard time accepting the boundaries I had set."
Morgan Zegers, 21, a Republican running for State Assembly in upstate New York, said she had been called a "G.O.P. Stepford wife" and often had to delete vulgar comments on her Facebook page. Lauren Underwood, 31, a Democratic House candidate in Illinois, recalled that when she was visiting a supporter, a local Republican stopped by and was affronted when he learned that Ms. Underwood was challenging his friend in Congress.
Harassment is not new for women in politics, or anywhere else — and men face it too, especially if they are African-American or Jewish. But for women, the harassment is ubiquitous and frequently sexualized, and it has come to the fore this election cycle, partly because so many women are running and partly because more of them are discussing their experiences.
Attendees at WomenWin — a forum in June for Democratic women running in Texas, which included a personal safety session led by the police chief of a local university — said they had found a sense of camaraderie in doing so.
"Being in the room with all of those women that are having those same concerns as me made me feel so much saner," said Samantha Carrillo Fields, 31, a candidate for the Texas House, referring not only to safety but also to other forms of misogyny on the campaign trail. "O.K., so this is real. What I'm feeling is real. It was really nice having that validation."
In a 2017 video by the Women's Media Center, elected officials — including seasoned politicians like Representatives Katherine M. Clark, 55, Democrat of Massachusetts, and Ileana Ros-Lehtinen, 66, Republican of Florida — described their experiences as part of a campaign called #NameItChangeIt, which encourages women to speak out about harassment. And women are more willing to do so than they were even a few years ago.
When Rebecca Thompson, a Democrat, ran for the Michigan House in 2014, strangers followed her home from events and drove slowly, repeatedly, past her house. At one point, someone broke into her car. By the end of the campaign, she said, she was sleeping at her partner's house because she was afraid to be in her own.
"I felt unsafe throughout the entire campaign," Ms. Thompson, 35, said. "It almost seemed like psychological warfare, like they were trying to psych me out. It kept me on edge all the time, because I just didn't know where I could go, anywhere in the city, without feeling like I was being followed."
But she was not comfortable speaking out then. "I told myself I had to just suck it up — there's no crying in baseball; there's no crying in politics," she said. "Had those things happened now, I do feel like I would have been empowered to speak up about them."
Yet even still, some candidates interviewed said initially that they had not been harassed — but then, when given examples like menacing social media messages, said yes, they had experienced those things. Just as many have observed in the #MeToo movement that a certain level of misogyny is so expected as to feel unremarkable, these candidates said they saw the messages as par for the course.
"It becomes so normalized, the types of things that people say," said Mya Whitaker, 27, a Democrat running for City Council in Oakland, Calif. "Being a black woman and existing, in some cases, is enough to piss people off."
Mya Whitaker, a Democrat running for Oakland City Council. "Being a black woman and existing, in some cases, is enough to piss people off," she said. 
Credit
Cayce Clifford for The New York Times
A different kind of normalization happens at the other end of the spectrum, where the harassment is so vicious and constant that it overwhelms the ability to react.
As an independent video game developer in 2014, Brianna Wu was the subject of abuse during GamerGate, when women involved in gaming were targeted for harassment.
Now a Democrat running for Congress in Massachusetts, Ms. Wu, 41, said death and rape threats came so routinely that she had ceased to feel much in response. Even when people threw objects through her window. Even when they vandalized her husband's car. Even when they emailed paparazzi-like photos of her in her own home.
"I often look at it and I'm like: 'I know I should be feeling something right now. I know I should be feeling scared or angry or stressed.' And it's at a point where I can't feel anything anymore," Ms. Wu said. "It's almost like fear is a muscle that is so overtaxed, it can just do nothing else in my body."
Many said it was a point of principle not to be intimidated into silence. Others said their political ideals were simply more important.
"For good reason, there's never any shortage of telling stories about women being harassed on the campaign trail," Ms. Wu said. "But I cannot communicate to you strongly enough: Over all, this job is fun. This job is exhausting, but this job is amazing."
Brianna Wu, a Democrat running for Congress in Massachusetts, said death and rape threats came so routinely that she had ceased to feel much in response.
Credit
Kayana Szymczak for The New York Times
Repeatedly, she and others urged prospective candidates not to be deterred. Ms. Zegers said that was why she deleted sexist Facebook comments.
"A lot of women pay attention to my page," she said. "It's important to me that we show a good dialogue about the issues and we don't scare women away from running."
And some cast the harassment as a
 

hurdle

 

they simply had to overcome if they wanted to change the systems that fuel it.
The government is still composed mainly of men who have never experienced sexual harassment, while "far too many women experience these things," Ms. Underwood said.
"I think that's part of the opportunity in running for progress," she said. "It's an opportunity to fix this and stop it from happening in the
 

future."
---
[Interview]: Mya Whitaker Is Running For Oakland City Council
O

akland, CA–Mya Whitaker, 27, watched her mother obtain two Master Degree's and a PhD, so she knew early on that education was important. She lived in East Oakland, where she learned she was surrounded by good and bad but that it was her decision to make the choice of how to navigate.
After high-school Whitaker attended San Fransisco State University, where she majored in Communications. She is currently raising her 5-year-old son and serving as Program Director for the Bay Area Urban Debate League. Whitaker was in this same program in high-school and was amongst the first group to win nationals.
As an Emerge graduate, a program that trains young women who want to run for office, Whitaker is prepared and ready to implement the skills that she has learned. She is passionate about the literacy levels of children receiving public education in East Oakland, as well as the rights of renters and those being displaced by gentrification.
Whitaker is aware of the rapid changes that are happening in her community. Many people are attracted to Oakland and increasing rent prices are displacing longtime residents. Wages have not increased locally and many are forced to pack up in search of more affordable housing. Despite this attraction to the Bay area, local residents are still experiencing the same crime and violence in their neighborhoods.
Whitaker is running for District Six City Council and all week she will be gathering 200 signatures to ensure her spot on the ballot. She looks forward to connecting with members in the community.
Why are you choosing to run for Oakland City Council?
I'm from East Oakland and I have always wanted to represent us. I know this is a lower-level seat but I am realistic about the fact that city council affects our lives on the day-to-day. My city is under attack, in a sense. We are losing our land left and right. In the last 10 years 70,000 Black people have left East Oakland, when Oakland used to be a predominantly Black city. For the people who are still here and people who are our allies, we need to work together.
What is the campaign process like running for city council?
A lot of fundraising and getting out meeting my neighbors. I feel like that is the best part of campaigning. I love to see my neighbors get excited about voting and really understanding the power of collective thought. Getting to know my neighbors, really helps to understand there are more people now in the city than just us. It helps in being strategic on how we ask for change and what we want implemented.
How was life growing up in Oakland?
We moved to Oakland in '96. My mother grew up here and had me in Chico where she went to college. I grew up in San Leonardo until the 9th grade and went to a charter school in Oakland. I'm a Bay area kid, so we grow up in diversity.
I did debate my senior year of high school and I ended up going to nationals. It changed my life. The impact of leaving your community, doing something positive and being rewarded for it. I turned 18 out there with them.
At SF state, I was a commuter person so I didn't really connect with my campus and I was still hanging out in East Oakland. Where else would I go? I'm in college and they don't relate because they don't understand East Oakland so that's the thing that used to get on my nerves.
When you get to college you realize that you are actually behind on what you need to know. It's really a strategic game of finding the right classes and talking to people. Where I'm from, you don't know how to ask for help, so you struggle and you can drown. I had my son at 21, so that was really interesting. Having my son and going to college really taught me that you have to ask for help.
What are the main points of your campaign?
I know my community and I know where we are at. Majority of the Black people have left and we have a 45% latino influx. We are dealing with an economic crisis, a housing crisis and public safety. That's the platform I am running on. Whatever changes we want to bring to the district, we have to do it together, in a sustainable way. The only way to do that is making sure that everyone is registered to vote and really pushing that when everyone is involved, it's really beneficial to the city.
Mya Whitaker needs your help! The cost of printing and materials for her campaign can be a lot for those who lack a lot of financial resources. If you would like to contribute to her campaign you can visit the website:

 

https://whitakerforoakland.nationbuilder.com/donations 
You can also find her on social media: @Whitfordist6
You have to help people when you can. There are a lot of people out here making bad decisions because they aren't exposed to better options.
---
---
East Oakland Organizer and Educator Mya Whitaker Announces Bid For
Oakland City Council

 

District

 

6

 

Seat
April 23, 2018 
For Immediate Release                                                           

 
Contact: Mya Whitaker
     Oakland, Ca –  Proud Oakland resident, Mya Whitaker has announced her candidacy for Oakland City Council District 6.
"As a person who is from the flatlands of East Oakland, I know that I can advocate for all of East Oakland. Especially for those that have been left from the table when it comes to fighting for major issues," Whitaker said.
Whitaker believes that communities should be involved in the decisions being made that impact their lives and surroundings; which has not always been the case for District 6 residents.
"I am running to represent a voice that is discounted yet still forced to survive in an ever-changing city," said Whitaker. "I would like for us, the District 6 residents to have a voice on the changes happening in our community. More than often our city leaders don't see the value in our voice. For our city to thrive we need a new vision and a new perspective sitting on the council."
Whitaker is the program director for the Bay Area Urban Debate League, that uses competitive policy debate for the advancement of inner-city youth. She also serves also as a counselor for underprivileged youth in the Bay Area offering guidance through problem solving and self-awareness.
Earning her Bachelor's degree in Communications from San Francisco State University, Whitaker continued her passion for politics at Emerge California where she graduated in 2017.
As City Council member for District 6, Whitaker says she, "plans to make the City work for the constitutes and continue to fight for policy-based change to uphold the beliefs of district 6. The change this city needs is going to start at City Hall and I'm looking forward to being a catalyst for that movement."
---
Oakland police chief charming, but she has work to do
January 6, 2017

 

Updated: January 8, 2017 3:37pm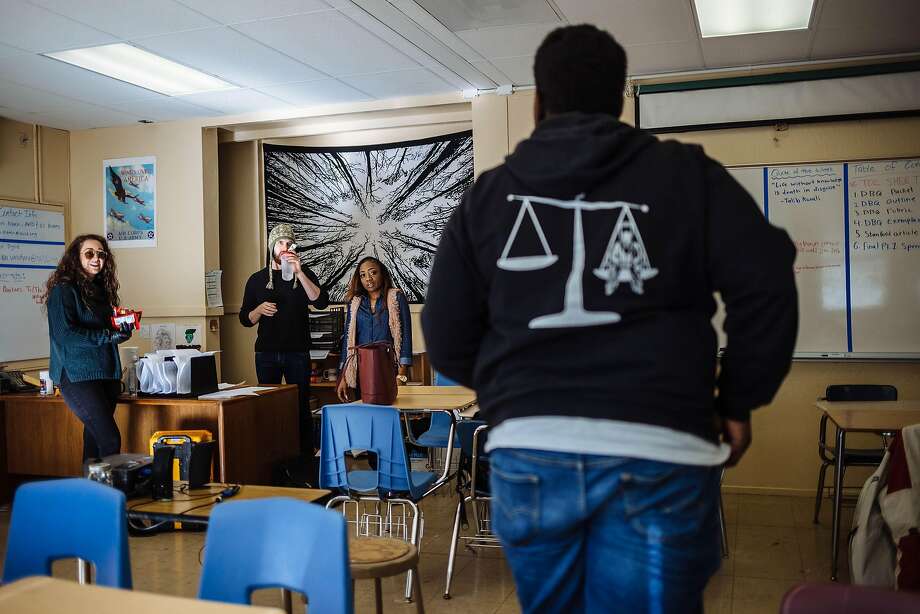 Photo: Michael M. Santiago, Special To The Chronicle
     Mya Whitaker program director of the Bay Area Urban Debate League meets with Laila Samini and Harrison Noel teachers at Skyline High School on Thursday, January 5th, 2017, in Oakland, CA. Mya Whitaker is the ... more
Oakland's new police chief sure does talk differently.
Anne Kirkpatrick, the first woman to lead the department, talked about transforming a force plagued by scandals involving racist texts and a sexually exploited teenager, and a lack of stability at the top. But she spoke with a Southern accent that is as sweet and thick as Tennessee maple syrup.
At her
 

introductory news conference, Kirkpatrick repeatedly said "y'all," pronouncing it properly as

 

yawl. Kirkpatrick is an outsider who's definitely not from around these parts, but her charisma and aw-shucks folksiness was downright entertaining.
"I like her humor," Maxine Jasper-Collins, an Oakland resident, told me afterward.
"I liked the energy," added Cynthia Adams, who also lives in Oakland. "It's something different."
Both Jasper-Collins and Adams hail from Arkansas, so they understood where the plain-spoken Kirkpatrick was coming from. I spent two decades in South Carolina, so I appreciated Kirkpatrick's self-deprecating approach.
"Y'all are probably thinking, 'Where did that accent come from?'" she said.
The Memphis-born Kirkpatrick was raised in the Deep South, where children are taught to say "yes, ma'am" and "yes, sir" to their elders. Memphis, a city known for cradling rock, blues, soul and country musicians such as Elvis Presley, B.B. King, Otis Redding and Johnny Cash, is where Kirkpatrick began her exemplary policing career.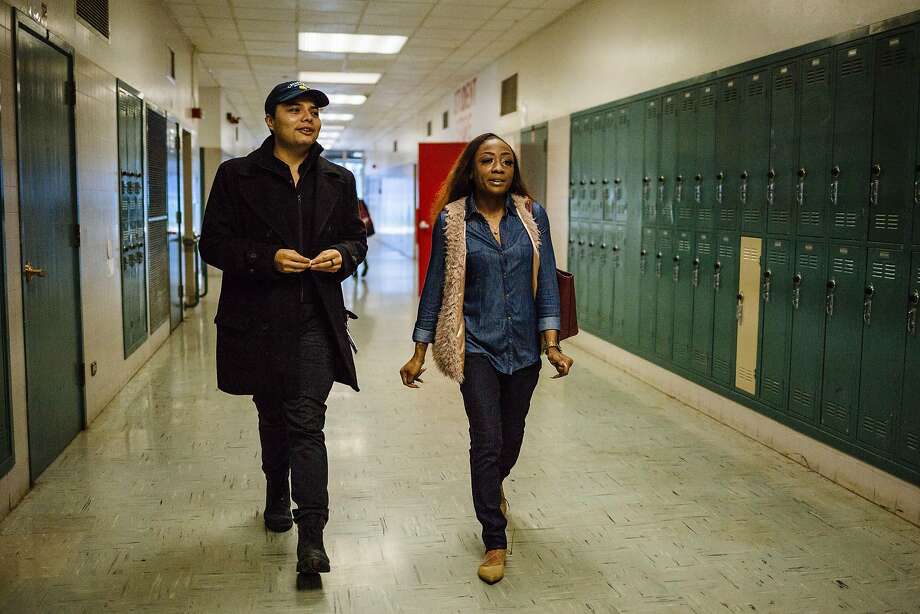 Photo: Michael M. Santiago, Special To The Chronicle
     Mya Whitaker program director of the Bay Area Urban Debate League walks through the hallways of Skyline High School with Carlos Ramos the Regional Coordinator of the program on Thursday, January 5th, 2017, in Oakland, CA. Mya Whitaker is the program director for Bay Area Urban Debate League and along other several Oakland citizens, helped Mayor Libby Schaaf select the new chief of police Anne Kirkpatrick in Oakland, CA.
A former police chief in Spokane, Wash., Kirkpatrick recently led reform efforts in Chicago. I'm relieved the person who accepted the job wants to live in Oakland even if, like many residents, she can't quite afford to buy a house.
"Y'all are expensive," she said, drawing laughter.
There's nothing funny about the problems Kirkpatrick is being asked to solve in a city where many residents simply don't trust police officers. While Kirkpatrick has been in charge of smaller police departments, she's never had the buck stop with her in a high-profile city like Oakland where the slightest misstep can lead to an explosive situation.
And it's not clear what she accomplished as a bureau chief in Chicago, if anything. Should the fact that she was only there for six months raise questions about her commitment?
If she sticks around, I feel Kirkpatrick's homey demeanor will positively improve community policing — but only if some of y'all can get over her drawl which can, to unfamiliar ears, sound like a pat-on-the-head scolding. That includes the rank and file.
More than anything else, Oakland needs a chief who talks with people — not at them.
"I absolutely want to reach out and get to know people, sit down with them, and have them ask me anything they want to ask," Kirkpatrick responded when I questioned how she would connect with young people.
Regina Jackson, president of the East Oakland Youth Development Center, which focuses on building character and confidence in children and young adults, nodded when Kirkpatrick said she would have to earn respect.
"Because a title doesn't give you carte blanche to how to be received," Jackson said. "That's what we teach kids all the time. It's not what they say; watch their actions."
Jackson believes Kirkpatrick's outsider status is an asset, because she doesn't hold allegiances inside a department that remains under federal court oversight stemming from a 2003 civil rights settlement over alleged beatings, evidence planting and falsified reports.
"She's able to start from the ground up in terms of demonstrating her authenticity," Jackson said.
Mya Whitaker, the program director for the Bay Area Urban Debate League, was one of three Oakland residents on the search committee. Even though the search has ended, she said the voices of black and brown residents still need to be included if the fragmented relationship between residents and local police is to be repaired.
Some could argue there isn't anything to improve, because an appropriate relationship has never existed.
Still, building a rapport will require Kirkpatrick to do more than say things a different way.
"Our communities have a severe distrust of the police," Whitaker said. "What will she bring? What is she about? You have good things, but how will you implement them?"
San Francisco Chronicle columnist Otis R. Taylor Jr. appears Monday, Wednesday and Friday. Email:

 

otaylor@sfchronicle.com

 

Twitter:

 

@otisrtaylorjr
Mya Whitaker
 

was getting ready to begin her second semester at

 

SF State

 

in January 2010 when she heard the news that one of her closest friends had been killed outside of a party in Hayward. As the months went by, several more of her friends were killed. The cycle continued until January the following year when she mourned the seventh death of a friend.
Heartbroken, financially unstable and nearly failing out of school, Whitaker didn't think she had the strength or the grades to complete the academic year.
And then she got a text message.
Her former high school debate coach, Michael Scheer, asked her how she was doing and what her grades looked like.
"I didn't even know he still had my number," said Whitaker, a sociology major. "I thought, 'Wow, I don't know any program where the teacher cares enough to message me and ask me how I'm doing.' He cared enough to not let me fail and pushed me to get involved with debate again."
Whitaker had joined the debate team during her senior year at
 

Skyline High School in Oakland

 

after Scheer told her she talked too much. Although she was accustomed to using her fists to get her point across to others, the debate team taught her to communicate verbally.
"There's a power factor that comes with being a debater," said Whitaker. "People have to listen to you and respect what you're saying."
Those who have debated against Whitaker have acknowledged the poise and feisty attitude she brings to the stage. Jessica Winsey, a former student at
 

Street Academy High School in Oakland, debated against Whitaker on five separate occasions. Although Winsey won the first four debates, Whitaker and her partner won the fifth debate by a split decision and became the first city champions of Oakland.
"Every time I would go against (Whitaker) it would be a fun experience," said Winsey. "She brings a sense of realness to the debate since she incorporates a lot of personal experience. She's just herself. She makes her arguments simple, clear and to the point."
Although she had spent less than a year on the team, she traveled to Chicago to debate in the prestigious
 

Chase Urban Debate National Championship.
"People underestimate me," she said. "I am this girl with colorful hair and tattoos, and then the moment people learn that I debate and that I'm intelligent, they realize they can't just talk to me any way they want."
Since Whitaker had success with the
 

Bay Area Urban Debate League

 

during high school, the nonprofit was happy to have her back as an alumni intern. It was incorporated into her contract that in order to be rehired at BAUDL, she had to join the

 

debate team at SF State

 

as a way to advance her skills.
"Debate was always something that made me happy, especially after all the tragedies kept happening," she said. "I eventually fell in love with it all over again."
Whitaker returned to debating in the spring of 2011. Although she had less experience than some other debaters, coaches put her through a high level of competition from the very beginning.
"As a debater, Mya has always had a lot of passion and courage," said Stephanie Eisenberg, a volunteer for BAUDL and one of the coaches for the SF State debate team. "Not only is she smart, but she's got a lot of things to say."
On top of going to school and debating for the SF State team, Whitaker works as both a mentor and coach for the debate teams at Skyline and Castlemont high schools in Oakland, respectively.
"If I had to rate (Whitaker) as a coach on a scale from one to 10, I'd give her a 10," said Michelle Thomas, a sophomore on the debate team at Castlemont High School. "She really knows how to debate and tells us the strategies she uses."
Whitaker said that if it hadn't been for BAUDL, she would have dropped out of college by now. In January, she was promoted to program assistant, which requires her to recruit students to debate for the league.
"I wouldn't be able to do my job if it wasn't for Mya," said
 

Perry Green, the program director for BAUDL. "Since she was promoted, our program has been much more robust. She's got her feet on the ground and interacts with students in a way that I just can't."
Although she spends several days a week helping students debate, Whitaker has also been an influence on them outside of the classroom.
"Mya is someone who I wholeheartedly respect," said Gregory Belvin, a senior and captain for the Skyline High School debate team. "If she were to criticize me, it would hold a lot more weight than anything a teacher or debate coach could say. She's been a guiding voice for me and a good example for minorities."
Whitaker said that transitioning from a fighter who could barely communicate to a well-spoken debater has made her realize that she is better than her economic situation.
"Debating is an outlet for me and a lot of people," she said. "Having all this built up anger and then finally being able to express yourself verbally feels really good."